Interested in Joining the CobaltIED Team?
What We Offer Our Team Members

CobaltIED is an innovation company. What we offer our team is an exciting playground of experimental games development to AAA standards, work on immersive XR technology, as well as software and hardware development in one of the hottest industry segments out there. You work with thought leaders and researchers, warriors and inventors and yes, we do have the occasional explosion in the lab.
This world is not for the faint-hearted. If you look for a challenge and enjoy pushing the boundaries of technology, games and experience design, you enjoy working in a small but high-powered team where your contribution is critical to success, take a look at our job openings.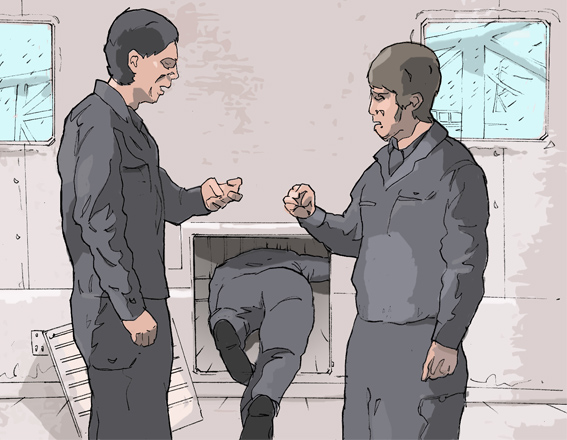 We are currently looking for...
Tags

Games & Simulation
Programming
Multiplayer
C++
MULTIPLAYER PROGRAMMER
About the Role
We are looking for a driven and talented Senior Multiplayer Programmer. You will work on creating cross-platform multiplayer experiences that push the limits of technology!
Key Activities
Create networked gameplay systems that are intrinsically scalable
Develop and optimize game client-server architecture and network communication
Offering constant and relevant feedback (related to progress, risks, needs that may occur)
Offer support with estimations and solutions.
Work alongside other engineers in the team to produce quality experiences.
REQUIREMENTS
Core Skills
Understanding of Single/Multiplayer games concepts, Client/Server, P2P architectures
Excellent command of C++
Experience with C++ networking in Unreal Engine 4
Experience with multithreaded programming and network communication protocols
Software architecture, algorithm and data structure fluency
Ability to navigate through large codebases
Previous work experience in a small to medium team
Nice to Have
Working experience on multiplayer in FPS games and VR.
Other engine/middleware experience (Unity, CryEngine, etc).
Knowledge of Epic Online Services and supported features.
C# experience.
Tags

Games & Simulation
Programming
Unreal Engine
C++
UNREAL GAME PROGRAMMER
About the Role
As a Game Programmer you will be working in a cross-functional team involved in all the stages of development of our current cross-platform multiplayer project.
Key Activities
Find the best technical solution for each game development challenge
Write code that is readable, debuggable and easy to maintain
Actively seek to help your teammates
Actively participate in planning meetings
Ensure that all relevant parties are aligned on task specifications
Help the team improve the quality of their work by eliminating waste from the development process
Constantly improve your own workflow and support team workflow
Collaborate with your teammates to flag and alleviate risks
Perform code reviews
Write technical design documents
REQUIREMENTS
Core Skills
Proficient in working with Unreal Engine or other C++ engines.
Fair knowledge of individual game engine Components (Networking, Physics, AI, Navigation, UI, Rendering).
Experience in optimizing for FPS and memory consumption.
Solid knowledge of design patterns and coding architectural principle.
Experience in debugging and profiling large code bases.
Excellent spoken and written English.
Experience in game development.
Experience working with C++
Nice to Have
Working experience on multiplayer in FPS games and VR.
Shipped at least one PC/Console title.
Good understanding of cross-platform game development.
3D rendering programming experience (DirectX, Open GL, Vulkan, etc.)
Good understanding of client-server communication & socket based network protocols.
Experience using Unit Test frameworks and Integration Test frameworks.
Tags

Games & Simulation
3D Art
Hard Surface
Industrial
Realistic
HARD SURFACE ARTIST
Scope of Work:
You create industrial like realistic environments and props.
Requirements
Core Skills
Proficient in hard surface modeling in a 3D package (3DS Max, Maya, Blender) - Proficient in Substance Designer and/or Substance Painter.
Experienced in high poly bakes to low poly and PBR texture workflows.
Nice to Have
Ability to use secondary programs to assist high poly creation (such as Zbrush or equivalent) is a plus.
Experience in Unreal Engine is a plus.
Tags

Training
Facilitation
Debrief
Leadership
Team Performance
Crisis Management
Resilience
Interested in Joining our Pool of Facilitators?
The Role of Our Facilitators

CobaltIED unites cutting-edge simulation technology with the best of human ingenuity. Our facilitators' expertise drives the success of our programmes as much as their design and technology.
We are always looking for experienced facilitators, coaches and trainers from a variety of specializations and backgrounds to join our crew and lead our programmes; locally or globally, full-time, part-time or freelance.
If you are interested please contact us via the contact form.
Working in Innovation
What We Expect from Our Team Members
CobaltIED has team members all over the world. We have adopted a results-centred approach to our work, where you choose how you work as long as work gets done. We work remote as well as on-site, depending on the task at hand and our respective teams' needs and preferences.
What unites us is curiosity, passion and a deep respect for the unique expertise each one of us contributes.
Due to the nature of the work we do, we look for some particular traits in all our team members
You have advanced problem-solving abilities
You can work autonomous and organized
You are efficient in communicating
You are a team player
You are eager to challenge and improve yourself, advance your craft and constantly learn new skills
You are passionate about quality and pushing the boundaries
You are open and honest and don't shy away from a constructive argument when it advances the project
and you are comfortable working in English
If this sounds like an adventure you want to embark on message us via our contact form.